SALES
• ARTIST RESIN SALES
• CHINA & HANDMADE SALES
• BRONZE SALES
• COMMISSION A SCULPTURE
EXCLUSIVE SALES NEWS & ALERTS
• YAHOO MAILING LIST
• TWITTER UPDATES
STUDIO UPDATES
• INSIDE THE STUDIO· UPCOMING WORKS
• EVENT CALENDAR
• STUDIO BLOG
• FACEBOOK
PORTFOLIO
• ARTIST BIO & CV
• CATALOG OF WORKS
ABOUT
• CONTACT MORGEN
• SALES POLICIES
Exclusive Limited Edition Bronze

The Odd Couple
~7 inches tall x 22 inches long

Included in Society of Animal Artists ~ Art and the Animal 2013
A bold little miniature horse gelding greeting his pasture mate, a Criollo stallion who is slightly affronted (or perhaps a bit more bemused). Two strong personalities that make great turnout companions despite the many differences between them. This pair was originally sculpted to be individually released in resin but now they come together as a boisterous pair, as envisioned by the sculptor.
$4,200 postage paid* as a preorder


Installment payments and credit card payments accepted as well


Limited Edition of 15 in Bronze


Available from select galleries or by preorder only. Price subject to change due to market cost variation. Please allow up to 14 weeks as each will be custom made to order for you.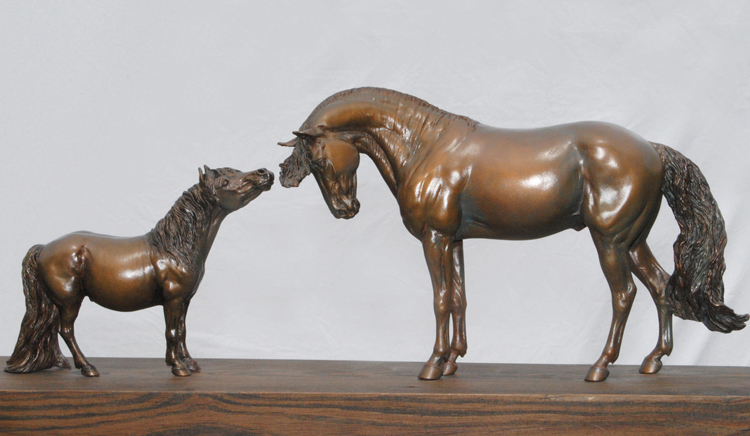 In addition to different patina options you can opt to have different patina colors for each horse.