The Birth of a Sculpture
Photos, links and more information on the lost wax bronze casting process coming soon!
All of my sculptures start over wire and are sculpted by hand and tool. What inspires me to chose a pose is of course a little more challenging to define - a spark, a feeling, a moment in time. But no matter the inspiration, they all start like these 3 below;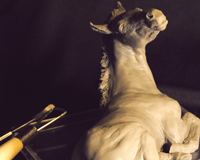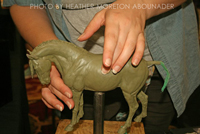 From here they are refined and then cast and can be made into bronze, resin, fine bone china or all three! The clay sculpture in the middle photo above was cast into unpainted (white) plastic artist resin edition and this more limited bronze metal version of this sculpture.