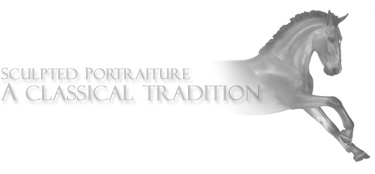 Commissioning An Original Sculpture
The devoted horse owner who wishes to immortalize their horse will love the accuracy and personality of Morgen's portraiture. Her passion is for creating realistic sculpture of equine form, both idealized and portrait. She specializes in anatomically accurate works that are also animated with inspired expressions that demonstrate a life spent working with horses and an understanding of their unique identities.
Morgen's work has been selling to art collectors internationally and she's won awards in competitions for sculpture over the past 20 years, both in abstract and realistic representative sculpture. She's also an involved member with some of the world's most prestigious, invitation only animal art societies.
She is currently accepting original sculpture commissions in a variety of scale, finish and edition sizes. Her sculptures are typically created in a tabletop size and can be scaled up or down from the original. From palm size to larger than life, technology allows for the sculpture's resizing with perfect proportions and preserving detail to go even smaller or up to lifesized and larger in weeks instead of years and more affordably and more accurately than ever before.
Any sculpture typically starts in soft clay. She works by constructing the shape in soft media to match the gesture and build of a subject, followed by reductive refinements to fully capture the spirit with convincing expressions and extraordinary details. Once an original is approved, the sculpture can then be cast in a variety of permanent media for indoor or outdoor display. Fine bone china, bronze, and cold cast bronze resin are among the most popular. Edition sizes can range from a single piece, to a few hundred. Mulitiple scale options are easy to accomplish as well.