Edition Information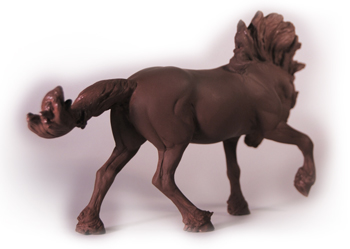 EDITION IS NOW CLOSED - Information left for those making time payments. Price $125 ppd *
shipping IS included * in US, international orders add extra postage
Was Available to Order Only For 6 Months:
August 1st, 2015 through February 1st, 2016
This edition was sold only for this 6 month open period. You can pay in full or start time payments by placing a deposit only during this time The first mold was cast by Morgen (sold out) but the subsequent molds will be professionally cast with wire supports.
3 Ways To Pay! See PayPal payment buttons below. *
Pay in Full (shipping asap!)
$45 Deposit / Pay off at Your Pace within 1 Year
Automatic Payments of $20.85/mo for 6 months
* To pay by check or Money Order just contact me
When your payment (option 1) or deposit (options 2 and 3) is made a casting will be created for you. There is no limit on number you can order but there may be a wait to receive your casting as they are not made in advance. Castings ship in the order they are paid off in full and a queue may be created to allow customers to see how long a wait they may have for castings (may be several months from the time paid off). Those orders paid in full sooner will ship sooner.

—— Pay in Full $125 postage paid———
Castings Ship in the Order They Are Paid
(BUTTON REMOVED)
Please Add Additional Shipping for International Orders

— Also Two Time Payment Plan Options!—

$45 Deposit for Time Payment (option #2 above)
A $45 deposit reserves your copy and starts your time payments - you have up to 12 months / 1 year to pay off the balance.
(BUTTON REMOVED)

(or) Start $20.85/Monthly Automatic Payment Plan ***(please read their terms I do not control this feature!) These automatic PayPal payments can be canceled at any time if you cannot make a payment for any reason & paid off at your own rate. You may also stop the automatic deductions and pay off your horse sooner if you like!

6 Monthly Payments (option #3 above) Bills you automatically via PayPal*** for $20.85 for 6 months.
Sly Lassie on 6 Month Time Payment
(BUTTON REMOVED)

IMPORTANT FOR ALL TIME PAYMENTS: When your final payment has been made be sure to also send me an email with your current shipping address! ***(please read their terms I do not control this feature!) § Deposits and payments are non-refundable.
---
Paying by Check or Money Order
The same prices apply but simple send a message to both of the following two email addresses;
morgen@one-horse.net; artbymorgen@yahoo.com to verify and get mailing address.
---
Payment Methods Accepted
Payments can be made by PayPal, credit card invoicing or by phone, or by mailing a check or money order to me directly. Please email me for my current snail mail address when mailing any check and money order payments.

Please send all inquiries to both of the following two email addresses;

morgen@one-horse.net; artbymorgen@yahoo.com

Paypal payments should be addressed to morgen@one-horse.net



If for any reason you feel I may have missed a question please do not hesitate to inquire! I always try to confirm payments within a few days so these confirmation emails may be going into your spam filters.

Alternate contact information is always appreciated as well!
Orders Will Be Confirmed Via Email
If you are not getting replies from me my emails may be going into your spam filters or not getting to you for some reason. The internet is a fickle creature. Please allow a reasonable amount of time for response but if you do not hear from me within a day or two please don't hesitate to write to me again using both email addresses (see contact page) to ensure your message gets through.
§ Reservations are Always in Advance of Casting
This means that deposits / initial payments are entirely used towards molding, casting and shipping costs and thus these are non-refundable for this reason. In fact it surprises people to learn that the deposits do not cover all of the costs involved! For this reason, as I cannot return boxes, peanuts, portions of additional molds made to order and all the costs per casting, I cannot refund deposits for any reason.
Shipping Time Frames
As of Dec 1st the second mold for Sly is in production and her shipping is immediately when paid in full as castings are in stock. Castings are not always kept in stock; castings are ordered & created only when you place your order so a backlog can and often does form towards the final days of an edition.
Often at the beginning of any edition there is a large number of paid in full orders to get through. Even after these are caught up on very little inventory is kept at my studio; castings are created only when paid for and then shipped to me. I inspect then and ship them to the owners. This takes time, up to a month without delays and often if there are people in line ahead of you it can take longer.
Shipping of castings will happen as promptly as possible. They are cast, shipped to Morgen from the caster and then inspected and packed by her and are sent off to you. Delays of weeks or possibly a month are possible when large groups of orders come in, even if paid in full. Your patience is greatly appreciated.
Eventually with all editions castings start to ship when paid off however it is impossible to predict when delays will come up as groups of customers may pay off and create another temporary backlog.

Special Holds on Shipping
If for some reason you need a shipment held on to (or for any questions!), please contact me.
At this time I am planning to focus primarily on the sculpting and leave the finishing work to the many many wonderfully skilled painters that are out there (under the "Find a Painter" page - button up to the left - you'll find many terrific painters to chose from!). Please do check on my Find a Painter page as I'm adding new names all the time (newest names are appearing at the top).
A Personal Note from the Artist
Sly was started in 2010 as a test of the Breyer scupting kit for their classes. I didn't want to teach the class without being sure I could do it myself from the armature provided. Now to be fair, the armature was a bit thick, so I had to go with a heavier breed of horse. As of mid-May 2015 this sculpture was again finally getting some attention after languishing around for 5 years to the day nearly (started in spring of 2010). Since then this little one has traveled with me in this fragile sculpey form to all of my workshops and has been handled by countless students. In the late spring of 2015 I finished her up and cast her in resin to preserve her forever. I wound up having to add a little a length to her back as the armature wasn't quite perfect but otherwise she is the same horse from 2010 that started out as a Breyer kit demonstration horse!